A visit to Cyprus can immediately change or erase any memory related to the latest financial crises. Everywhere you turn your head you will be able to see new restaurants open, brand new shops or most of all modern and futuristic office buildings that had just finished or half way to the finish line. Cyprus is growing big! The Limassol sea promenade is more and more beautiful and the tallest skylines are just about to touch the sky. It is a good sign for everybody, thinking to start in Cyprus a new business.
Commercial Spaces in Cyprus would like to give you some information regarding the most attractive business choices!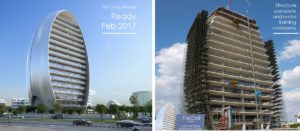 The Oval will definitely represent an iconic image of Limassol city, with uninterrupted views across the Mediterranean, setting new standards in workspace design. It is a landmark development designed by internationally acclaimed architects Atkins and developed by Cybarco. It is situated just a few meters from the sea, with uninterrupted sea views and close to Limassol's city centre with easy access to the highway. The Oval is the tallest commercial building in Cyprus at 16 floors, with 2 underground parking areas. Fantastic facilities and services, including manned reception, 24-hour security and controlled access to parking & building areas, property management, exercise room & cafeteria, double-height luxurious lobby, raised floors, 4 high-speed elevators. The delivery is promised to be February 2017.Prices for offices are starting from €560.000.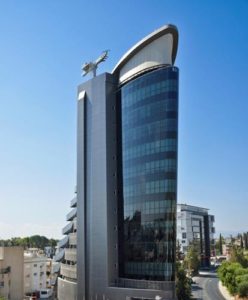 The President building is already finished and representing a powerful image in Nicosia, the capital of Cyprus. The beautiful building was built by Rotos Developers and sold for 20 mil euro. Is the headquarter of the Company "Wargaming" – an award-winning online game developer and publisher and one of the leaders in the free-to-play MMO market across PC, console, and mobile. The President building is of metal construction and is energy efficient as it uses a photo-voltaic system. It is one of the tallest buildings in Nicosia as its height reaches 75 metres.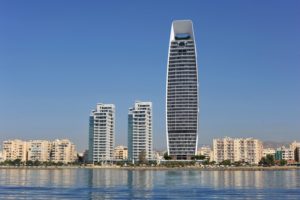 Pafilia Tower Situated in Limassol, designed by leading architects Atkins is the most prestigious real estate project in Cyprus. With 36 floors, twice as many as any other building in Cyprus, One is the tallest building on the island occupying a prominent beach front location. The tower offers luxury homes, retail space and offices.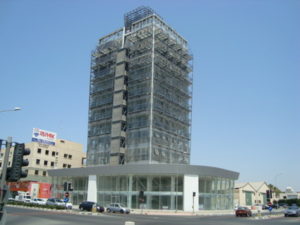 Novel Tower Larnaca – Novel Tower's modern steel structure is the highest of its kind in Cyprus. It is designed to comply with the highest technical standards and contemporary specifications. The excellent location of the Novel Tower provides maximum exposure for the shops and showrooms on the ground floor that feature large unobstructed double glazing windows, ceramic floors, provisions for air-conditioning units. Suspended ceilings, lighting and other interior finishes will be the responsibility of the buyer/tenant.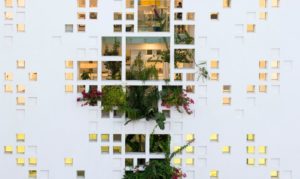 We will not finish this article without mentioning Jean Nouvel's Cyprus tower in Nicosia. Even if it was finalized in April 2015 the building realized by the French architect Jean Nouvel who loves adding a pop of greenery to his designs, and his white-and-green tower block in Cyprus' capital city of Nicosia is a fine example of that passion. The tower is a blend of modern design and that little something extra that only nature can provide. The multi-use building contains ten stories of apartments, six stories of office space, and a two-story retail area, resulting in a bustling center for activity near the city's busy Eleftheria Square, which in itself is an incredible design project.
With all these modern and extraordinary buildings, finding the most exquisite office space in Cyprus will be a very easy task even for the most demanding investors.